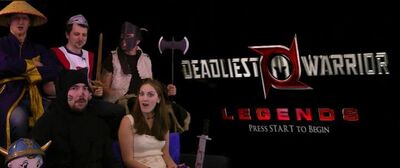 Video Games Awesome has special episodes for different days of the week. Technically, these epsiodes don't have to fall on the day they're named after, it's just a way to make it sound more alliterative.
Trailer Tuesday - Later became Show & Trailer
Demo Duesday - A series of game demos
Fourplay Friday - Multiplayer games
Turbo Tuesday - Exhibition Matches
Indie Encore - Sometimes an episode is capped off with a quick playthrough of an Indie game.
Ad blocker interference detected!
Wikia is a free-to-use site that makes money from advertising. We have a modified experience for viewers using ad blockers

Wikia is not accessible if you've made further modifications. Remove the custom ad blocker rule(s) and the page will load as expected.