"That poor French/Italian/Portuguese girl..." - tgorman83 (in the chat room)
It wouldn't quite be Video Games Awesome without some voice acting. Voice acting has been a staple of VGA since the days of Awesome Video Games, but first prominently makes its way into VGA by way of the Earthbound is Awesome shows.
Frequently, the VGA crew will do some voice acting when playing an game wherein they need to read dialogue or when talking in the perspective of a character; although usually the former. Occasionally a voice will be so over the top or offensive that it is obviously an attempt at trolling.
To see a list of different voices for specific games, please see Voice Acting:Games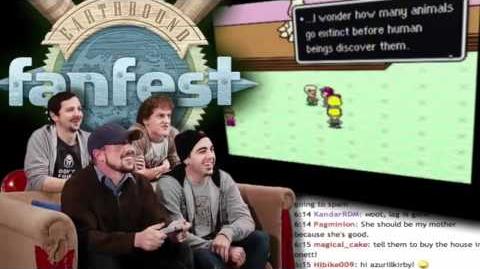 Japanese People and, by extension, the French
Tommy Wiseau
Jimmy Stewart
Weeny
Morbidly Obese People
Maya Fey (which can only be described as a French/Porteguese/Japanese version of Miss Piggy)
Tommy Lee Jones
Toad
The Cowardly Lion
Gorons/Detectives (roughly similar to a Deep-voiced version of Homestar Runner)
Tingle
The Owl
Elcor
Christian Bale's Batman
Shiek
Notable Ben Voices:Edit
Denny
Trilo Quist
Navi
Farting Kid
Clowns
Old Women (Grandma)
Old Men
Cowboys
Uhmmm...herself?
Ema Skye (Basically her normal voice but with a plugged nose)
Posh/disinterested drawls
Becky is the voice of the chat!
Love voice

French/Italian/Portugesian Japanese Spirit Medium from California mk. II
Ad blocker interference detected!
Wikia is a free-to-use site that makes money from advertising. We have a modified experience for viewers using ad blockers

Wikia is not accessible if you've made further modifications. Remove the custom ad blocker rule(s) and the page will load as expected.