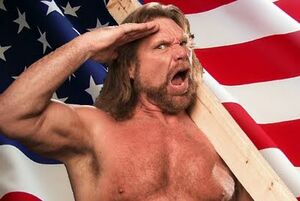 USA! USA! is a running gag in Video Games Awesome frequently used by Deacon, but it is also used by a few other members of the show as well. It first appears in the Harley Davidson Road Trip episode, as a pure statement of that game's utter American-ness. It would later appear whenever Deacon is particularly excited about something. During one of the Team Fortress 2 exhibition matches wherein Deacon was present with a Blue Banada to show his support, he shouted "BLU-SA! BLU-SA!".
Following several failed attempts at getting a horse's head from scratchcards in Mario & Sonic at the London 2012 Olympic Games (as custom clothing for their Miis), the gang cried out "USA! USA!" when they won one with only a few tries remaining.
While the gang's chanting of "USA! USA!" is featured in many videos, Becky disclosed that when the others chant USA, she has never joined in.  Becky merely plays along and cheers rather than chanting for the United States, as she is a loyal Canadian.
At PAX Prime 2015, Deacon started the "USA! USA! USA!" chant (Turbos and the other crew members then join in) after a surprise marriage proposal.
European Turbos chanted "USA!" as Fraser and Becky were walking towards the meet up in Finland.