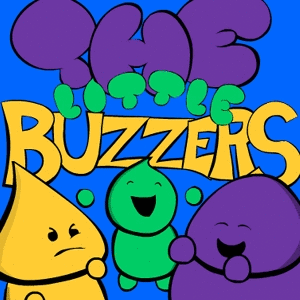 The Little Buzzers is a series of cartoon shorts made in 2005. The characters are generic sprites that can only speak in buzzes, hence the name "Little Buzzers". The main characters are
Duncan
, the dumb purple sprite,
Sedrick
, the yellow cone-shaped sprite, and
Greevil
, the tiny evil green sprite. The three friends have surreal adventures in their world. Other characters include
Doctor Kill-Kill/Mr. Murder
,
Lady Bass
, and
a robot
.
There are ten episodes total. The episodes are available on Far From Subtle's youtube account, on Newgrounds, and also on the dedicated Little Buzzers website by Far From Subtle.
Random Jibberish!

03:07

The Little Buzzers - Episode 1 - Random Jibberish!
Ad blocker interference detected!
Wikia is a free-to-use site that makes money from advertising. We have a modified experience for viewers using ad blockers

Wikia is not accessible if you've made further modifications. Remove the custom ad blocker rule(s) and the page will load as expected.