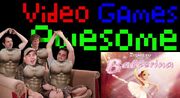 This was a term coined during what some consider to be the best vintage
VGA
episode, Let's Play Ballerina. While there is no widely accepted consensus of what the term actually means, it's assumed that anyone, or any
thing
can be
So Ballet
if he/she/it possesses a
"valley girl"
accent and is very sassy. For example, Zelda (
No, not THAT Zelda!
) was considered to be "so ballet" during the
Skyward Sword
playthrough.
So Ballet is just one of the many voices used on the show. For more, see Voice Acting.
thumb|left|300px|VGA is So Ballet.thumb|300px|right|Fan Edit
Ad blocker interference detected!
Wikia is a free-to-use site that makes money from advertising. We have a modified experience for viewers using ad blockers

Wikia is not accessible if you've made further modifications. Remove the custom ad blocker rule(s) and the page will load as expected.