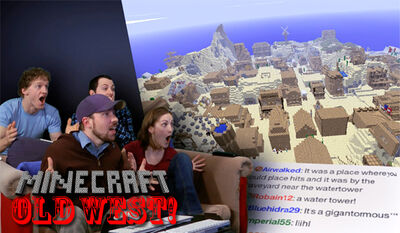 Old Rock was the first Build Challenge completed on the Minecraft Awesome server. It is a Western themed town set in a desert, with several references to western works of fiction, such as Red Dead Redemption, and Back to the Future Part III.
While not part of the build challenge area, the Armadillo build is considered part of the build challenge and was aired in the same episode. It has its own portal in The Hub.
The full VGA episode can be seen here: http://www.blisteredthumbs.net/2011/03/western-town-minecraft-build-challenge/
Ad blocker interference detected!
Wikia is a free-to-use site that makes money from advertising. We have a modified experience for viewers using ad blockers

Wikia is not accessible if you've made further modifications. Remove the custom ad blocker rule(s) and the page will load as expected.