"Aww, why did we have to kill Old Jim?"
Ben Taylor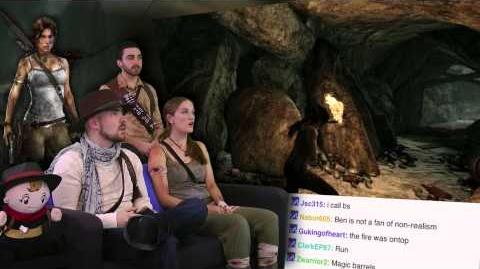 Old Jim was a helpful adventurer who attempted to help Lara Croft in the 2013 Lara Croft Playthrough. The character was named and then mentioned several times by the VGA crew as an explanation for several things in the game.
Upon Old Jim's death, Fraser claimed that he was an adventurer that had been keeping the bad guys at bay. Upon finding arrows strewn across the Island, Ben decided that Old Jim had been making them for Lara.
Old Jim is first mentioned in Part 2 of the Lara Croft Playlist at around 9:35. He is mentioned again in Part 6 from 8.49.
See Also
Edit
Ad blocker interference detected!
Wikia is a free-to-use site that makes money from advertising. We have a modified experience for viewers using ad blockers

Wikia is not accessible if you've made further modifications. Remove the custom ad blocker rule(s) and the page will load as expected.