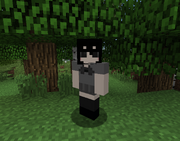 Moderator for Video Games Awesome.
Nulani wears her Rukia skin from the anime series Bleach. She was first brought on as a Com and has been promoted to the ranks of Moderator.
Nulani's Duties far exceed those of just moderating. She also takes part of the development and administration of the minecraft server. She, along side of Kshade and Aqws, handle the plugin installations and testing.
There has been rumors that the minecraft server is housed in Nulani's Basement (Due to the amount of lag during the migration of the server.) but this was only a rumor.
Nulani is quiet and a bit shy, but she knows her stuff and is an important part of the Minecraft Awesome Moderator Team.
She is also known for being one of the chat's favorite racers to cheer for during the Mario Kart Awesome episode.
Ad blocker interference detected!
Wikia is a free-to-use site that makes money from advertising. We have a modified experience for viewers using ad blockers

Wikia is not accessible if you've made further modifications. Remove the custom ad blocker rule(s) and the page will load as expected.