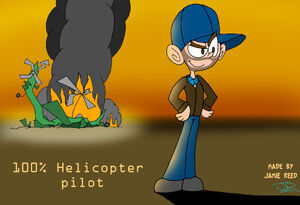 It's true I'm not, and I wish you guys would stop throwing that in my face every time! ~ Fraser
Fraser Agar is not a helicopter pilot.
Nonetheless, it has been a recurring gag for the chat to throw the fact of his lacking credentials in his face at every appropriate and inappropriate opportunity they get.
During the episode where they concluded their Batman: Arkham City playthrough, the cast (Fraser, Ben, and Becky) was forced to watch a helicopter in-flight get its tail blown off in front of Batman, causing the helicopter to spin wildly around. Demonstrating an extensive knowledge of helicopter physics (or lack thereof), Fraser argued that a helicopter cannot possibly stay suspended in air with its tail missing for as long as this one did.
Becky, Fraser's girlfriend for the past 9 years, and the person whom would have the most intimate information of all Fraser's hopes and crushed pipe dreams, only subtly asks how did he know that, as if not to initially be abrasive. While Fraser is admitting he lacks definitive knowledge about the subject, Ben interrupts by very bluntly reminding Fraser he is no helicopter pilot. Ben's remark and Becky's subsequent laughter caused Fraser to be sullen – his only response a plea for them to stop always mentioning the matter to his face. As expected and rightfully so, Fraser's response was belittled by Ben and Becky's laughter.
This would also be the first time the chat became aware of Fraser's possibly failed career path of being a helicopter pilot. As the chat is not one to ever sympathize with Fwash Fwash, telling Fraser that he is not a helicopter pilot has become a common mode of trolling for the chat. By extension, the chat has also reminded Fraser of any other type of pilot he is not whenever the situation would call for it.