Former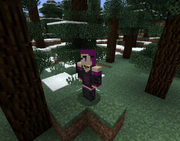 Moderator
for
Video Games Awesome
.
Known for making cat like noises during TF2 matches and an active & generous trader. For example, Neko worked hard to earn one of the rarest TF2 hats to be given away on a live show.
While always a fairly popular user, Neko's stature among the VGA fans surged when Ben started flirting in Minecraft Awesome Expeditions, then eventually got engaged in Team Fortress Awesome using the item "Something Special for Someone Special".
Adventure Build
Edit
Neko also played a major role in the story of the Adventure Build Challenge. As he was captured by the evil Santa our heroes of the VGA crew was forced to take upon a epic quest to save Neko.
Neko died in a freak accident during the opening ceremony of the Minecraft Olympics in a parody of the James Bond short in the London 2012 games. By the end of the event, he was miraculously alive.
Livestreaming
Edit
Neko is a member of The Turbo Stream Community and has organized events such as a TF2 tournament. Neko's twitch channel is http://www.twitch.tv/Nekoevangeline
Ad blocker interference detected!
Wikia is a free-to-use site that makes money from advertising. We have a modified experience for viewers using ad blockers

Wikia is not accessible if you've made further modifications. Remove the custom ad blocker rule(s) and the page will load as expected.