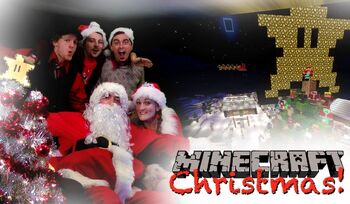 Minecraft Christmas was the first official Build Challenge on the Minecraft Awesome 2.0 server. For a change of pace, Santa opened and closed the show instead of Fraser, marking his first appearance on Video Games Awesome since the hiatus of Awesome Video Games.
Click here for the Playlist to watch the whole episode.
[[Video:Merry Christmas|thumb|300px|left|Preview of Christmas by Bonefoot]]
List of Builds (incomplete)
Edit
Christmas Town (Nightmare Before Christmas)
Santa's Workshop & Elf Village
Freezy Peak (Banjo-Kazooie)
Yule Goat
The Christmoose
Island of Misfit Toys (Rudolph the Red-Nosed Reindeer)
Snow Miser & Heat Miser Lairs (A Year without Santa Claus)
Adventure Time
Cocoa Cola Santa Pixel Art
Diddy Kong Racing
Carol of the Bells
Gingerbread House
Ice Hotel
Polar Express
Beckini Bottom (Spongebob Squarepants)
Scrooge's Mansion (A Christmas Carol)
McCallister Mansion (Home Alone)
The Legend of Santa Ham
Santa Zim (Invader Zim)
Ice Sculpture Contest
The Butcracker Ballet
Kashyyk and Cantina (Star Wars Christmas Special)
Bedford Falls (It's a Wonderful Life)
Ad blocker interference detected!
Wikia is a free-to-use site that makes money from advertising. We have a modified experience for viewers using ad blockers

Wikia is not accessible if you've made further modifications. Remove the custom ad blocker rule(s) and the page will load as expected.