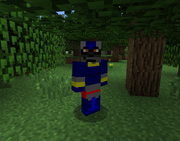 Moderator for Video Games Awesome.
Mellisbaker is also a large share-holder of FarFromSubtleTV, but despite this fact, he is not allowed to be a member of the Turbo Club. He is however the only member thus-far to be in the SuperTurbo Club.
Mellisbaker is a Minecraft prodigy and is known for making some of the crazier builds on the Minecraft Awesome server; he has his own section in the Old World Hub just for his many build projects.
Minecraft Olympics
Edit
During the opening ceremony of the Minecraft Olympics, Mellisbaker played the role of James Bond in a parody of the Bond short film "Happy and Glorious" from the London 2012 Olympic games.