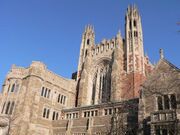 Law School is a running gag in Video Games Awesome, first appearing in the April Fools 2011 video. Fraser claimed that the show was facing legal issues from frequent Simpsons quotes. He also claimed that Ben (who was at school at the time), was at law school, and had gotten one of his professors to give them advice. Most people figured out this was a joke from the implication that Ben was smart enough to go to law school anyway.
In the Phoenix Wrightepisode, it was revealed that Ben did go to law school to study Maritime Law.
Ad blocker interference detected!
Wikia is a free-to-use site that makes money from advertising. We have a modified experience for viewers using ad blockers

Wikia is not accessible if you've made further modifications. Remove the custom ad blocker rule(s) and the page will load as expected.