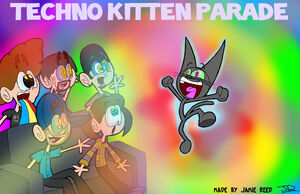 "Not everything can be a kitty."
"I say everything can be a kitty. What're you gonna say about it?" - Ben and Fraser
The Kitty running gag refers to Fraser's tendency to refer to any animal at all as a kitty, even if it isn't even remotely cat-like. This first occurred during the Skyward Sword live show with the Remlits and persisted into many a show after. Not to be confused with Kitty Glitter.
Things Fraser has referred to as kitties include:
Frogs
Remlits
Kikwis
Snarf
Giant Spiders
Buzzsaw Blades
Swordpigs
Moldarach
The Imprisoned
The Cloth people in Journey
The Cloth "Jellyfish" in Journey
Geth Stalker in Mass Effect
Geth Armature in Mass Effect
Varren in Mass Effect (aka Dog Kitties, Doggy Kitties and Doggies)
Sovereign in Mass Effect
Saren in Mass Effect
FENRIS Mechs in the Mass Effect series
The Tank-Grown Krogan in Mass Effect 2
A mechanic on Horizon in Mass Effect 2
The injured salarian worker in Mass Effect 2
Geth Colossus in Mass Effect 2
Vertin from Mass Effect 2 is a "bad kitty"
Harvesters from Mass Effect 2
Space cows from Mass Effect 2
Agents of the Shadow Broker from Mass Effect 2
A shuttle from Mass Effect 2
Levias
The Fire Dragon
Demise is apparently an "Ugly Kitty"
R2D2, the original kitty
Ms. Fortune
A Luma from Super Mario Galaxy is a Star Kitty
Hardhat Beetles from The Legend of Zelda: Four Swords Adventures
A chimaera from Dragon's Dogma
The dragon from Dragon's Dogma
A troll from Dragon's Dogma
Hankoner, one of Fraser's Skyrim characters while he was being customised
Khajiit from Skyrim
Lions
A mutilated spider from LIMBO
The frog (or possibly pug) that caused it to rain in LIMBO
The "brain slugs" from LIMBO
The predators of the "brain slugs" from LIMBO
A killer buzzsaw from LIMBO
Scientists
An artifact from Mark of the Ninja
Aiden from Beyond: Two Souls

Also of note: Becky's dog in Minecraft Awesome, Pokey, meows instead of barks.