"Well, I'm not going to lie to you; I wasn't that invested in this relationship." - Frash-Frash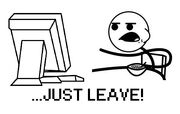 Just Leave is a joke that originates from the Skyrim Christmas episode, when Fraser attempted to marry Aeyla the Huntress. When asked if he would accept her as his bride, Fraser flatly rejected as a joke. In response, all the NPCs got pissed at Fraser for wasting their time, and told him, "Just Leave" in a dejected tone.
The Chat now uses "Just Leave" to voice its disappointment at various situations.
Ad blocker interference detected!
Wikia is a free-to-use site that makes money from advertising. We have a modified experience for viewers using ad blockers

Wikia is not accessible if you've made further modifications. Remove the custom ad blocker rule(s) and the page will load as expected.