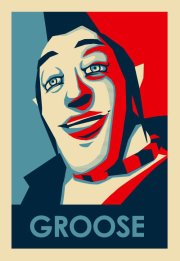 Grooseland is the name of the nation that is ruled by Groose, a character from The Legend of Zelda: Skyward Sword. During Video Games Awesome's coverage of the game, they become instantly enamored with the character, comparing him to other great bully characters like Gaston or Biff Tannen. According to Fraser, "He's a Jerk, but it's hard not to love him." They even went as far as to suggest that he should be the protagonist of the game, and that the surface world should be named Grooseland, like he wanted.
Ad blocker interference detected!
Wikia is a free-to-use site that makes money from advertising. We have a modified experience for viewers using ad blockers

Wikia is not accessible if you've made further modifications. Remove the custom ad blocker rule(s) and the page will load as expected.