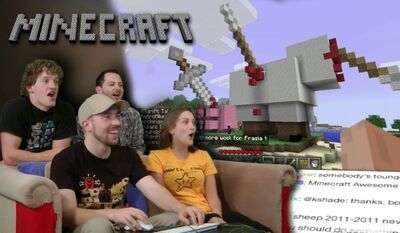 Giant World, also known as "Benormous" by VGA fans, is the fourth Build Challenge on the Minecraft Awesome server. This build features ordinary objects built on a massive scale, ranging from minecraft objects to recreations of ordinary objects. The tour started withing a hamster cage in a giagantic house.
To see the full VGA episode, click here: http://www.blisteredthumbs.net/2011/05/giant-world/
List of Builds
Edit
Ad blocker interference detected!
Wikia is a free-to-use site that makes money from advertising. We have a modified experience for viewers using ad blockers

Wikia is not accessible if you've made further modifications. Remove the custom ad blocker rule(s) and the page will load as expected.