"Ooooh...And now it has a name."
-
Ben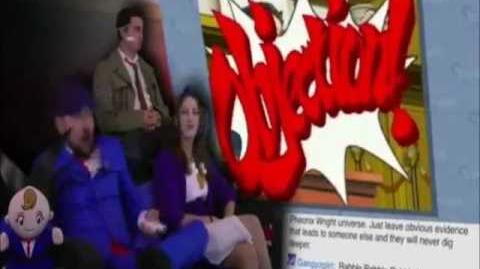 Frashdance is a running gag featured in the Phoenix Wright is AWESOME Video Games Awesome shows. During a certain portion of the show in which the "Cornered" theme played, Fraser began to dance in a very spastic manner, consisting of shaking his head and moving his arms in a strange robot matter and stomping his feet. He christened said dance the "Excited Attorney Dance" but the chat quickly renamed it Frashdance as a tip of the hat to Flashdance. Fraser and the chat love the dance, but Ben finds it silly.
Fraser usually starts Frashdancing when he feels like he is on a roll during the game (as said before, usually in segments where the "Cornered" theme starts playing). However there have been times where Fraser has felt that the games logic is so out of whack or when he has become so frustrated with it that he outright refuses to dance, much to the disappointment of the chat. One example would be at the end of the first trail day in the fifth case of Trials and Tribulations. On these occasions he does sometimes do a "quasi-dance", which is just a slow, half-assed version of the Frashdance.
Ad blocker interference detected!
Wikia is a free-to-use site that makes money from advertising. We have a modified experience for viewers using ad blockers

Wikia is not accessible if you've made further modifications. Remove the custom ad blocker rule(s) and the page will load as expected.