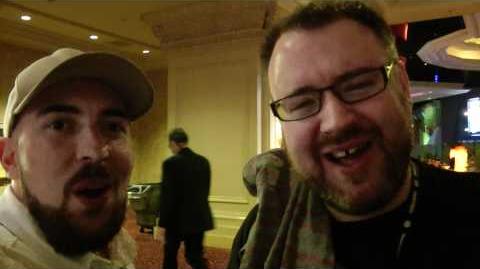 "Don't you hate us?"
-Simon of Yogscast
During the Pre-Mincon Show & Trailer, Fraser showed the VGA crew a handful of episodes of the Yogscast as an introduction to them, since they would have a panel at Minecon. The chat became annoyed that Fraser only showed their earliest work and not their more popular "Shadow of Israphel" series. They also wanted him to play the "Diggy Diggy Hole" song. When Fraser got annoyed that they wanted him to show more Yogscast, the chat started claiming "Fraser Hates Yogscast". They then proceeded to try and make Fraser jealous of the more popular show to incur his wrath.
At Minecon, Fraser eventually met Simon of the Yogscast. Fraser asked Simon to set the record straight, but even Simon said Fraser hated Yogscast, claiming Jeb of Mojang had told him so.
Ad blocker interference detected!
Wikia is a free-to-use site that makes money from advertising. We have a modified experience for viewers using ad blockers

Wikia is not accessible if you've made further modifications. Remove the custom ad blocker rule(s) and the page will load as expected.