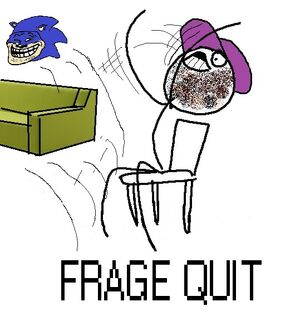 A Frage Quit is what occus when Fraser frages so much at a game that he refuses to finish it. This can come from actual Frage, or from boredom and/or disappointment.
Signs of an impending Frage Quit may include:
Excessive Frage
Throwing the controller
So far, the only games in which Fraser has Frage Quit are Duke Nukem Forever, Sonic Generations and the first Assassin's Creed.
Ad blocker interference detected!
Wikia is a free-to-use site that makes money from advertising. We have a modified experience for viewers using ad blockers

Wikia is not accessible if you've made further modifications. Remove the custom ad blocker rule(s) and the page will load as expected.