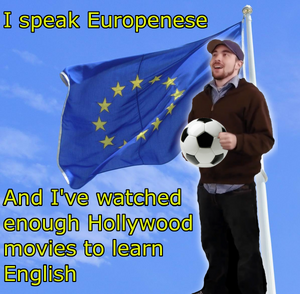 "My goal is to offend every race in each episode, just to make it fair." - Fraser
"I want to say that's racist, but I don't know who it's racist to!!" - The Chatroom
As everyone knows, Fraser is one of the most culturally sensitive people of all time.
Of course, any long-time viewer knows nothing on the show is sacred, and he rarely ever means what he says.
Fracist Facts
Edit
Did you know...
Edit
... that Japan and France are the same country?
... that the national hat of Germany is the Fez?
... that Germans are actually choking on their own language?
... that the primary language of China is "Ching Chong"?
... that JFK was an Australian?
... that the people who live on the Asian Steppes are called "Mongorians"?
... that normal-looking drug dealers are black?
... that the Dutch rape sasquatches?
... that Jesse Owens apparently never won any gold medals because Fraser thinks Hitler banned all black people in the Olympics?
... that the Dutch are just are a cross-breed between the Irish and the Swedish?
... that Samurai are Chinese?
... that the music piece "Chopsticks" is the same as the Oriental riff?
... that the music of the Holy Land is Christmas Carols and Bing Crosby songs?
... that a Jewish place of worhsip is called a "Jew House"?
... that Canada's culture revolves around knowing nothing about other cultures?
... that the writer of "The Art of War" was Shang Tsung?
... that German singing is just yelling?
... that no English person has ever done a piece of art?
... that all southern Italians are plumbers?
Examples of Fracists/Fracism:
Edit
Ad blocker interference detected!
Wikia is a free-to-use site that makes money from advertising. We have a modified experience for viewers using ad blockers

Wikia is not accessible if you've made further modifications. Remove the custom ad blocker rule(s) and the page will load as expected.