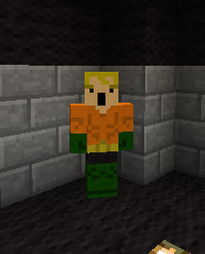 EnterMEUN is a member of the
Video Games Awesome
community, and an avid user on
Minecraft Awesome
. He is leader of the Yay Team and is most known for his identity on the server as
Aquaman
.
EnterMEUN is a former Helper on Minecraft Awesome.
It is unknown how long Enter has been on the server, but he came to center stage during the Beckyni Bottom build. His build for the challenge was Aquaman's Lair, and he wore an Aquaman skin for the show. As Aquaman is the "Deacon of the Sea", he was mocked greatly by Fraser until he bowed his head in shame.
Because of the amount of attention he got from this, he continued to keep the Aquaman persona, as a counterpoint to 47Drift's Batman persona. Fraser continued to mock him every time he saw him during a show.
EnterMEUN's antics as Aquaman got himself a major role in the story for the Adventure Build Challenge. First, he attacked Fraser and company with a giant roboctopus in retaliation for all the mocking he's endured. Then he disguised himself as Snarf's wife Neko to trick Ben into rescuing him. EnterMEUN continues to be a fan favorite on the show as he
finds new ways to depricate himself, such as wearing a tutu and dancing in the Nutcracker Ballet for the Christmas Build, etc.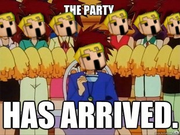 He started streaming the
Pokemon Draw-a-thon
in January 2012, revealing a great artistic prowess as he is trolled by the
mods
.
Fan Art by EnterMEUN on this site can be found here: Category:Art by EnterMEUN
Notable Challenge Builds
Edit
Other Notable Builds
Edit
Livestreaming
Edit
EnterMEUN uses his twitch channel to broadcast his live art shows, as well as play games, or simply even goof around with his puppets. He is a member of The Turbo Stream Community, and his channel is .
Ad blocker interference detected!
Wikia is a free-to-use site that makes money from advertising. We have a modified experience for viewers using ad blockers

Wikia is not accessible if you've made further modifications. Remove the custom ad blocker rule(s) and the page will load as expected.