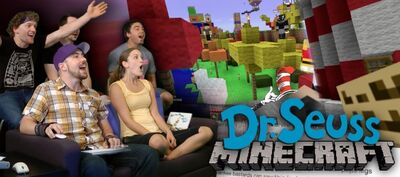 The Dr. Seuss Build, known by VGA fans as the "Deactor Seuss" build, was the fifth Build Challenge on the Minecraft Awesome server. This build drew inspiration from many of the Dr. Seuss books, and almost all of the signposts guiding the tour are written in rhyme.
The following Dr. Seuss books are referenced in this Build Challenge (incomplete):
Horton Hears a Who
One Fish Two Fish Red Fish Blue Fish
Oh the Places You'll Go
The Cat in the Hat
The Lorax
How the Grinch Stole Christmas
To see the full VGA episode, click here: http://www.blisteredthumbs.net/2011/07/dr-seuss-minecraft-world/
Ad blocker interference detected!
Wikia is a free-to-use site that makes money from advertising. We have a modified experience for viewers using ad blockers

Wikia is not accessible if you've made further modifications. Remove the custom ad blocker rule(s) and the page will load as expected.