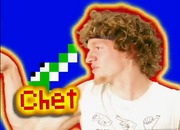 Chet is a character in the FFStv show '
Awesome Video Games
'. Chet is played by
Kyle Huinink
, and is the older brother of
Ace
. Chet loves playing Video Games with his brother, and would rather be at home playing games with his little brother than at a hot-tub Sega Genesis party with his Cousin
Lester
. Chet rips his pants purposely, because it makes him more of a Bad Dude. Chet frequently wears a 'Cut it Out' shirt.
He is usualy the one on the show who coments on the games and how to play them, gives turbotips, while his brother brother is one who is the most exited to play them. He is also skilled with a bicycle and uses one when he is working as a paperboy doing his paperrounds and also when Ace built him an awesome ramp to ride on.
Ad blocker interference detected!
Wikia is a free-to-use site that makes money from advertising. We have a modified experience for viewers using ad blockers

Wikia is not accessible if you've made further modifications. Remove the custom ad blocker rule(s) and the page will load as expected.