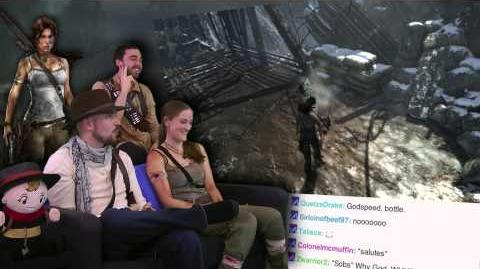 "Is that bottle moving?" Fraser
Bottle-y was the result of an engine glitch in the 2013 Lara Croft Playthrough. When Fraser went to break, he noticed the bottle moving, and upon resuming play he was able to confirm that it was.
The gang followed the bottle and became attached to it, until it could no longer travel across a bridge. Considering its direction, Ben decided that the bottle was suicidal, and so Fraser shot it to put it out of its misery.
Fraser would later remark that no other bottle could live up to Bottle-y's bravery.
Bottle-y's epic tale can be seen in Part 10 of the Lara Croft Playthrough.
See Also
Edit
Ad blocker interference detected!
Wikia is a free-to-use site that makes money from advertising. We have a modified experience for viewers using ad blockers

Wikia is not accessible if you've made further modifications. Remove the custom ad blocker rule(s) and the page will load as expected.