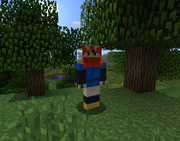 Bonefoot is a Moderator for Video Games Awesome. Bonefoot is known for being one of the stricter mods when it comes to the vanilla-ness of the server, and is often one of the more pronounced dissenting voices when another moderator, usually Aqws, proposes adding something that would drastically alter the gameplay of the game. People like to claim he is in fact a twelve-year-old girl.
Bonefoot is well known on the server as the Cake Guy, having placed a cake in the house of each of the residents of Old Port as a welcome gift, which was toured by the crew. This led to Fraser and the chatroom associating any cake shown on the show with Bone, although he hasn't actually made a cake in a long while.
Bonefoot has always had a passion for The Moomins and had rebuilt multiple scenes from the show in minecraft. He has also worn various moomin skins at various points in time.
Videos of the Moomin builds were filmed by Bonefoot himself and can be found here!
Livestreaming
Edit
Bonefoot is a member of the Turbo Stream Community and organizes events such as the Desert Skags in Red Dead Redemption. His twitch channel is http://www.twitch.tv/bonefoot
Ad blocker interference detected!
Wikia is a free-to-use site that makes money from advertising. We have a modified experience for viewers using ad blockers

Wikia is not accessible if you've made further modifications. Remove the custom ad blocker rule(s) and the page will load as expected.