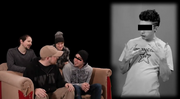 "I will remember you... will you remember me?" -Fraser, Deacon, Kyle
"I will! I will!" -Ben
After Ben Taylor left in November, 2010 to complete Law School, many new comers were confused about who he was and why the rest of the cast kept referencing. It eventually became a joke between veteran viewers to ask, "Ben who?" every time he was referenced. This continued several weeks into Ben's return a few months later.
The "Ben Who?" joke was first seen in the free-build project during a live show in Minecraft. Shown in a team-made castle that had various throne rooms. Ben was the only one that didn't have a throne but had a sign that said "Ben Who?"
Ad blocker interference detected!
Wikia is a free-to-use site that makes money from advertising. We have a modified experience for viewers using ad blockers

Wikia is not accessible if you've made further modifications. Remove the custom ad blocker rule(s) and the page will load as expected.